Poker

| » |

Updated On April 29, 2023

| » |

| » |
---
CoinPoker Welcome Bonus
---
CoinPoker is an innovative online poker platform that uses blockchain technology and cryptocurrency to offer a secure, transparent, and seamless gaming experience. One of the many advantages of joining CoinPoker is the enticing welcome bonus they offer to new players. In this comprehensive article, we will delve into the details of CoinPoker's welcome bonus and explain how it works, how to claim it, and what benefits it brings to the players.
---
30% RakeBack To All Players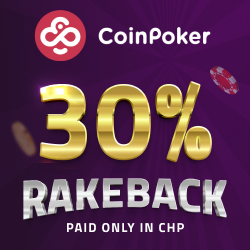 CoinPoker
CoinPoker's welcome bonus is designed to attract new players to the platform and provide them with a boost to their bankroll. Get up to $1100 free on your first 3 deposits with coinpoker. All USA and Worldwide players are welcome at coinpoker.
---
CoinPoker's welcome bonus is a fantastic opportunity for new players to explore the platform, develop their poker skills, and potentially win big prizes. By understanding the bonus terms and conditions, practicing proper bankroll management, learning from others, and participating in promotions and tournaments, players can make the most of this generous offer and enjoy a thrilling and rewarding poker experience.
Understanding the CoinPoker Welcome Bonus
CoinPoker's welcome bonus is designed to attract new players to the platform and provide them with a boost to their bankroll. The welcome bonus is a match deposit bonus, meaning that CoinPoker will match a player's first deposit up to a certain amount in their native cryptocurrency, CHP (CHiP tokens). This generous offer allows newcomers to explore the platform and play poker games without risking too much of their own funds. Coinpoker offers 3 different first deposit bonuses, which are the following: You may claim each bonus 1 time.
100% up to $100 deposit $100, get $100 bonus
100% up to $300 deposit $300, get $300 bonus
100% up to $700 deposit $700, get $700 bonus
How to Claim the CoinPoker Welcome Bonus
Claiming the CoinPoker  bonus is a simple and straightforward process. To be eligible for the bonus, players must first create an account on the platform by providing a username, password, and email address. Once the account is set up, players can deposit funds into their account using CHP or other supported cryptocurrencies such as Bitcoin (BTC), Ethereum (ETH), or Tether (USDT).
Upon making the first deposit, the welcome bonus will be automatically credited to the player's account. CoinPoker will match the deposit up to a specified maximum amount in CHP, effectively doubling the player's bankroll. For example, if a player deposits 1,000 CHP, they will receive an additional 1,000 CHP as a welcome bonus, bringing their total account balance to 2,000 CHP.
It is essential to note that the welcome bonus comes with certain terms and conditions. Players must meet specific playthrough requirements before they can withdraw the bonus amount or any winnings generated from it. The playthrough requirement is typically expressed as a multiple of the bonus amount, and players must generate a set amount of rake or tournament fees to clear the bonus.
The Benefits of CoinPoker's Welcome Bonus
The CoinPoker welcome bonus offers several benefits to new players, including:
Increased Bankroll: The most obvious advantage of the welcome bonus is that it provides players with a larger bankroll to start their CoinPoker journey. This increased bankroll allows players to participate in more games, enter higher-stakes tournaments, and potentially win bigger prizes.
Risk Reduction: By providing a welcome bonus, CoinPoker effectively reduces the risk associated with playing poker online. Players can use the bonus funds to try out different game types and strategies without risking their own money.
Learning Opportunity: For newcomers to online poker, the welcome bonus offers an excellent opportunity to learn and practice their skills without significant financial risk. Players can familiarize themselves with the platform, experiment with different poker variants, and gain valuable experience in a real-money environment.
Community Building: The welcome bonus also helps foster a sense of community and camaraderie among CoinPoker players. New players are more likely to engage with the platform and participate in tournaments and cash games if they feel they have a financial cushion to fall back on.
Making the Most of Your CoinPoker Welcome Bonus
To fully capitalize on the benefits of CoinPoker's welcome bonus, players should consider the following tips:
Understand the Terms and Conditions: Before claiming the welcome bonus, players should carefully read and understand the bonus terms and conditions. This includes the play through requirements, time limits, and any game restrictions that may apply. Being aware of these terms will help players plan their gaming strategy and ensure they can make the most of their bonus.
Develop a Bankroll Management Strategy: Proper bankroll management is crucial for long-term success in poker. Players should set limits for themselves regarding buy-ins, cash game stakes, and daily or weekly spending. By adhering to a well-planned bankroll management strategy, players can minimize the risk of losing their entire bankroll and maximize their chances of success.
Learn from Others: CoinPoker's community is full of experienced and skilled players who are more than willing to share their knowledge and expertise. New players should take advantage of this wealth of information by participating in forums, joining chat rooms, and watching live streams of professional players. Learning from others' experiences can help players develop their skills and make better decisions at the poker table.
Practice Makes Perfect: While the welcome bonus provides a cushion for new players, it's essential to remember that practice is the key to success in poker. Players should take the time to familiarize themselves with different poker variants, practice their strategies, and analyze their play to continually improve their skills.
Participate in Promotions and Tournaments: CoinPoker offers various promotions and tournaments that can help players maximize their winnings and make the most of their welcome bonus. By participating in these events, players can not only increase their bankroll but also gain valuable experience and exposure to different game formats.
---